Experience the Power of WhatsApp for your Business
Convert WhatsApp chat into sales, marketing and customer support channel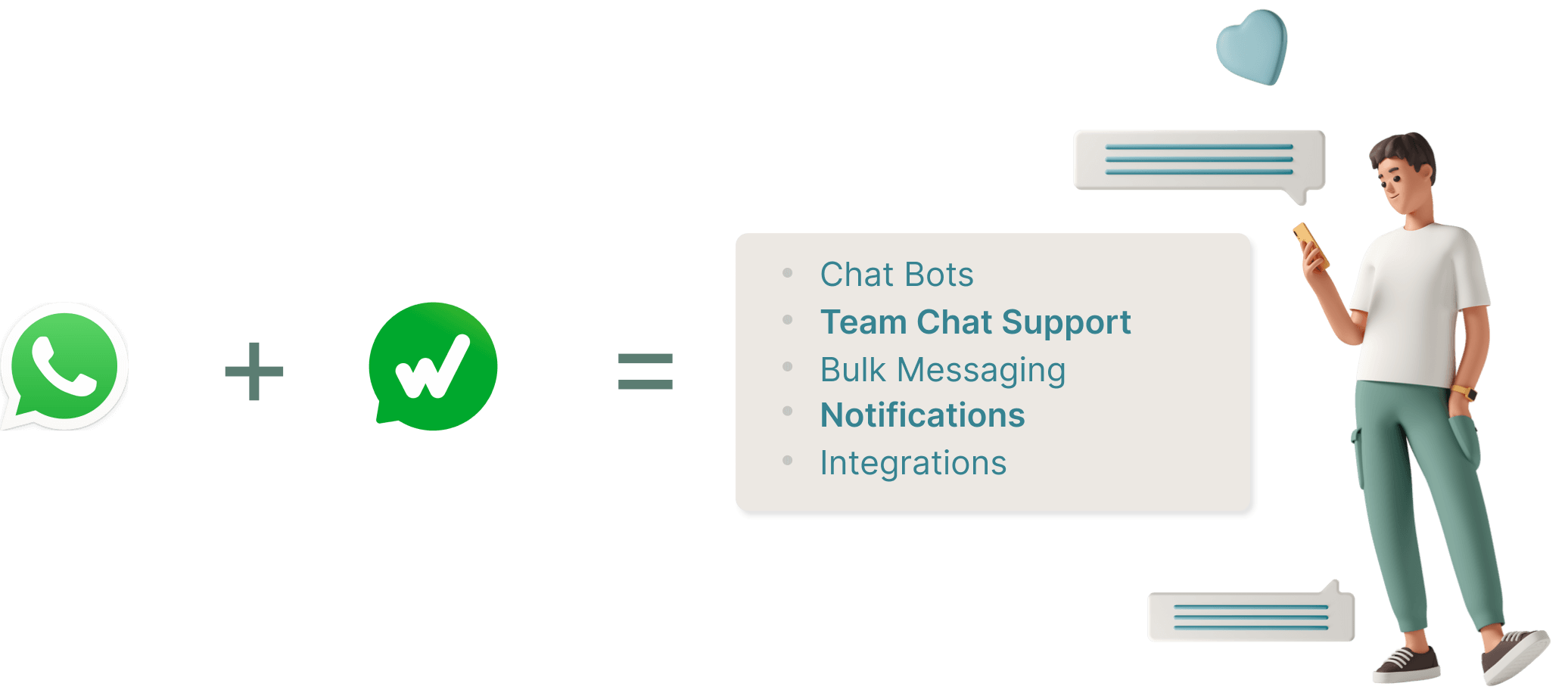 WhatsTool Business provides complete solution for your Business Growth
Sales
Empower shoppers to shop where they want and how they want.

53% of consumers want the ability to purchase directly through a messaging app and even more (59%) want the ability to customise products through chat functions
Marketing
Meaningfully connect with your customers on their favourite app.

With 95% open rates within 2 minutes of message delivery, WhatsApp is the best marketing channel out there.
Customer Support
Empower your team to provide a collaborative and positive experience.

62% of social media users say they'd like to communicate with a customer service representative through a messaging app.
With WhatsTool Business, you can turn WhatsApp chat into sales portal
You can sync your catalog from website to WhatsApp
This enables your customer to browse and experience your product on WhatsApp and order while chatting.
Taking order while chatting and sending in cart Increased Sales
Add to cart is all we love to do. Customers can do same on WhatsApp too with the help of WT Business. This enabled and increased the sales.
Send payment link automatically just after the product selection
This reduced the friction of users from switching tabs and extra hassle and increased the conversion of add to card to payment ration
Customer love the notification of order they made
You can set the order notification which can be very satisfying to the customers who made his hard earned money. This improves customer experience to next level.
Convert the chat into cart.
While you provide info on chat you can take their order and send them the cart and they can buy in click
Auto pull all product data from shopify to WhatsApp Catalog
This takes the customer experience to next level. It pull the store also sets all the important notification customers wants on WhatsApp.
Marketing tools helps the Business to reach maximum
Send 10,000 of messages in a click, promote your major announcement
This has helped Businesses to reach thousands of customer in a click on WhatsApp. They got amazing open rate of 95% along with increase in orders and sales.
Sending personalised message to users who likes and not likes is the main power
When Business got the power to repeat the order with right targeting and Increase the order from the customer who were not Interested then he could Increase the sale by 35%
Data is the oil to think for the strategies of Marketing and Right Targeting
With the right data to take decision on the marketing ROI Business is able to make it super great with the every efforts they put in.
Sell more, support more and run marketing on auto mode with chatbot auto flows
Chatbot is great time saver and brings all the power of customer satisfaction for 24/7. This is a great power that Business uses across their implementation
Better Support, with features that optimize your teamwork
Now on WhatsApp, Its just like how people have been doing customer with unified team chat
Multiple Agents of your team helping customer and as a manager you have full view of whats happening.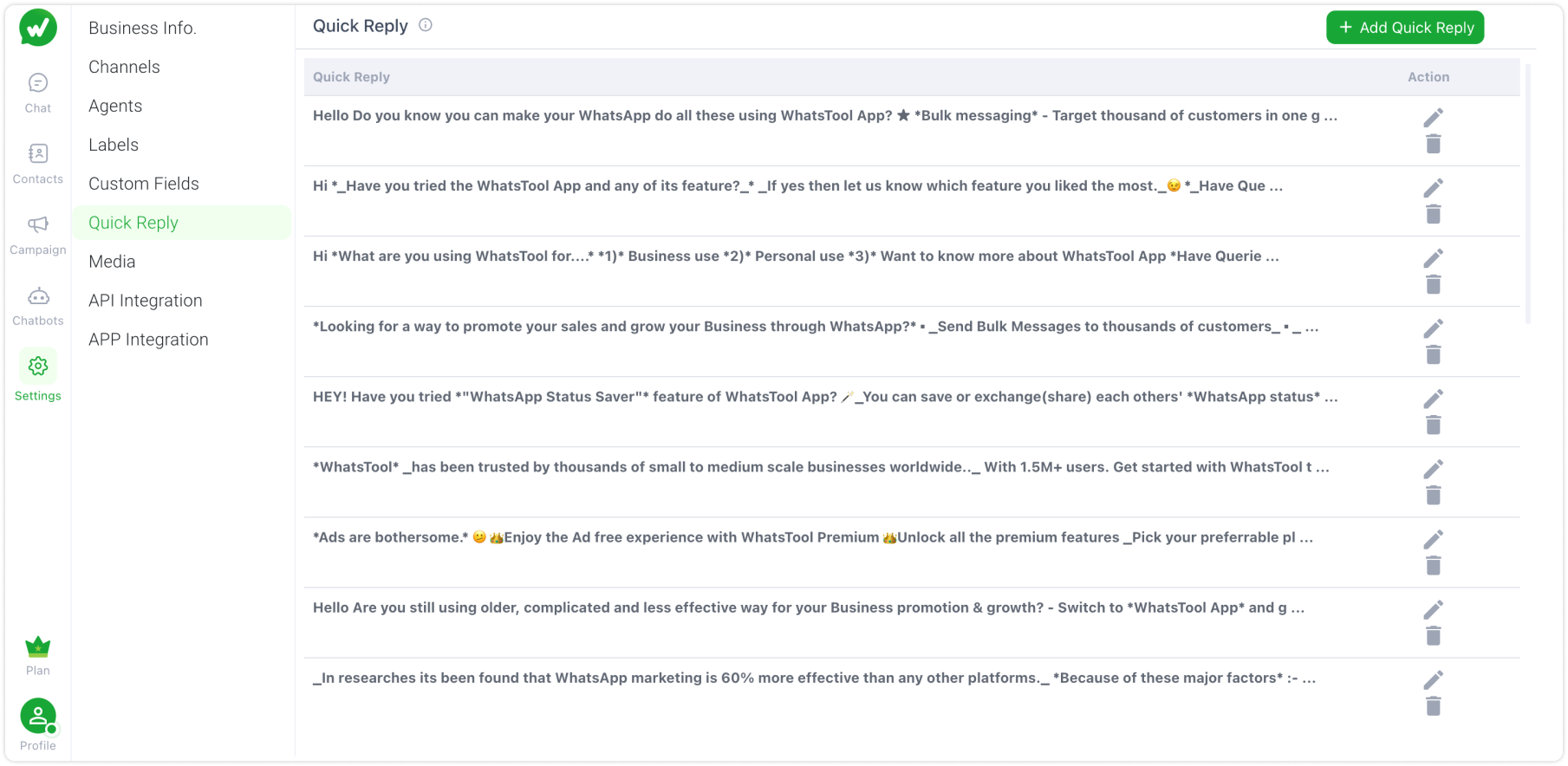 Don't repeat. Just do quick reply
With text, media and multiple sequence of messages at one place, customer gets faster response than before. Agents support more people on less time.
Every agent has unique expertise. So utilise it
You can handover the chat to any agent as you need. Help solve customer problem quickly
Right labels save lot of time of the entire team
Assign right label helps increase the efficiency of team by 20%
Use custom fields & CRM to customise our tool as your business need
Amazing tool with amazing power. Once you know it your business requirements are shorted.
With your system via API, and to your need tools of the world
E-Commerce Integration helps connect with all right tools for e commerce business
Integrate your favourite E -Commerce apps to reduce abandoned carts, increase revenues with one click integrations
CRM & Agent Integration helps to know how your customer are interacting in our system on your favourite tools of tracking
Integrate your existing CRM & live Agent apps to engage with your customer better
Payment Integration helps your customer to do the payments without switching between the tabs
Integrate with easily accessible payment gateways and enable easy payment for your customer without switching between the channels
Customers First​
Delivering customers what they need is our first priority
Providing Best
We always work hard to provide best for our customer in their growth
Being Loyal
We always wish to gain customer's trust and loyal
Part of the Team
We always try to be the part of our customer's team to solve the issue