Powerful Features that you need
All Plans of WhatsTool Business are Inclusive of these features
Free Whatsapp Business API
Get Whatsapp Business API Approval within 2 days (Free with any plan)
Multi Agent Live Chat
Enable Multiple Human-Agent Live Chat Support on the same Whatsapp Number
Broadcast Unlimited Campaigns
Broadcast Messages up to 1,00,000 users in one day
Connect Your APIs
Easily Connect with Shopify, Salesforce, WooCommerce, Zapier, Payment Portals, CRMs & more
Connect no Code A.I. Chatbots
Connect No-Code Chatbots from Google Dialogflow in a Single Click
Import and Export Contacts
Import Opted-In Contacts and Broadcast Messages seamlessly
Template Messages Approvals
Quick Fast Template Message Approval Process (2-3 Days) via Interactive Dashboard
Send Personalised Messages
Use User attributes effectively to send personalised campaigns
Chat CRM Included
Manage Contacts & Create segregated audience using various tags, attributes & more
Whatsapp is the One Platform that brings together Actionable Notifications & Customer Support!
95% Open Rates
45-60% Click Rates
2 Bn+ Users
Experience Whatsapp Smart Notifications Now
Which Notification would you like to Experience? Choose one & we will send it instantly on your Whatsapp
Get WhatsApp Business API in 10 Minutes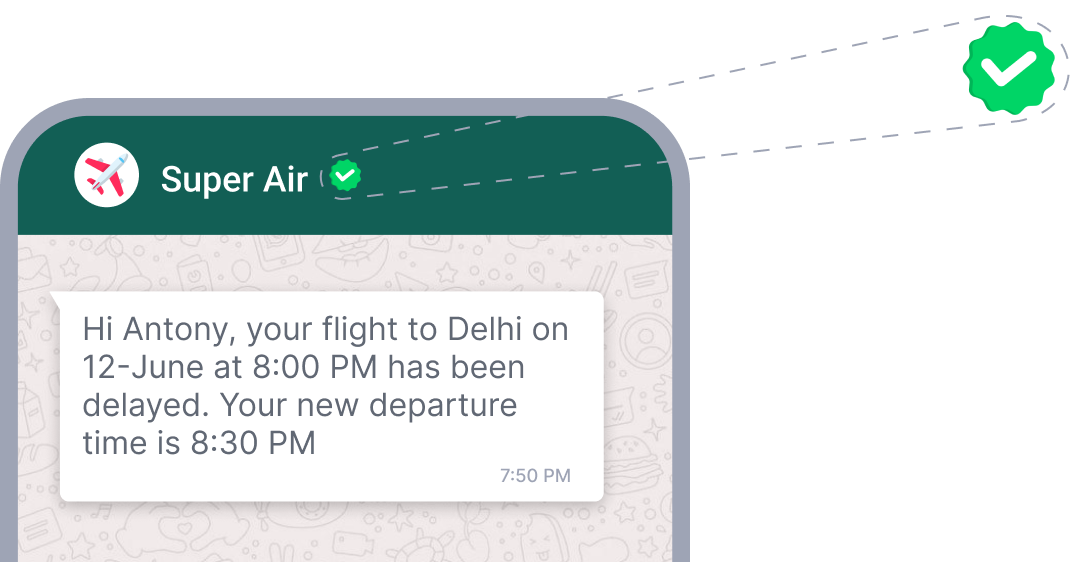 WhatsTool Perform is powered by Official Whatsapp Business APIs and is in
alignment with all Whatsapp Rules.
Get Verified Green Tick on your Whatsapp Broadcast upto 100,000
Notifications 24*7 Chat Support by WhatsTool Team
Official WhatsApp API Key-Points
Pre-requisites for Official WhatsAPP
Documents and other requirements to get an Official WhatsApp API account created.
You will need the following to get started:
Email,
Live website URL,
Facebook account, A mobile number that has never been previously used on WhatsApp,
Company formation document available in your country,
Company address proof document such as tax certificate etc.
Can I send any kind of message using official WhatsApp account?
You can send any kind of image, video, document message with official WhatsApp account, but please do note that you need to get the message template approved from WhatsApp first using our panel. Template approval takes around 5 mins to up to 24 hours duration.
Yes. But green-tick verification is subject to Facebook policies. Check your business eligibility for Green-tick verification here.
No, the number will not get banned unless reported or blocked by a significantly large number of users for several consecutive days.
Application is processed immediately. Approval from Facebook may take 1-5 days.
Use Contact Management and Campaign Management to send bulk messages.
Number of WhatsApp messages per day

Per message charge
Meta, parent company of WhatsApp charges message cost and it needs to be paid to them.
360Dialog vs WhatsApp Cloud API
Mandatory to Recharge after 1000 message in all plan except in Free plan (after 500 message)
Mandatory to Recharge after 1000 message in all plan except in Free plan (after 500 message)
Security Deposit of Rs 2000 is mandatory at the start of plan. It will be refunded at the end if you inform about your removal of account before 60 days.
No security Deposit Required
Recharge will include WhatsApp charges. For Example for Recharge of Rs1000 user will get 1800 BIC = 1700x0.49(BIC) + 0.10 (WTB platform free)x1700
Recharge will not include WhatsApp charges & will only be our platform fee. For Example for Recharge of Rs1000 user will be able to send 10,000 messages because we will only charge platform free